$8000: Bitcoin's big comeback
Following a solid to break above the $7,400 mark earlier today, bitcoin (BTC) has broken $8,000, with all top-20 cryptocurrencies trading in the green.
BTC is trading around $8,013 at press time, up over 13% on the day.Bitcoin's weekly gains are now at around 38.88%.
Since hitting a 2018 price low of $3,112 on December 15, 2018, with a market cap of $56 billion at the time, bitcoin's price has since rallied nearly 150 percent and currently records a market cap of $136 billion, according to CoinMarketCap.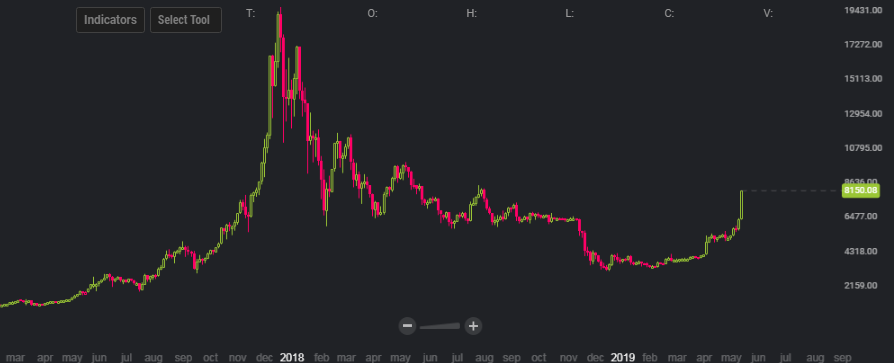 As usual when the market leader pics up a strong bid, the USD value of most other cryptocurrencies follows suit.
All of the top 20 cryptocurrencies by market cap are recording gains today, the top three performers of which include Binance Coin (BNB), BitcoinCash (BCH), and Dash (DASH) which reported 24-hour gains of 13.8, 12.6, and 12.6 percent, respectively, at time of writing.
Ethereum (ETH) has seen an increase of 7.57% in the last 24 hours. The second largest cryptocurrency is trading at $202.65 at press time. The altcoin's weekly chart shows gains of over 15%.
Apart from bitcoin, bitcoin cash (BCH), binance coin (BNB), IOTA (MIOTA), Tezos (XTZ), and Ontology (ONT) have also reported double-digit gains, from 10% to 17%, according to CoinMarketCap.
Total market capitalization of all cryptocurrencies is around $234 billion at press time –– up from around $209 billion at the beginning of the day.
Contrary to digital asset markets, stocks slumped today after China decided to raise tariffs on some United States goods, CNBC reported today. The Dow Jones Industrial Average lost 617.38 points, or 2.4%, to 25,324.99, marking its worst session since Jan. 3. The S&P 500 also fell 2.4% to 2,811.87, while The Nasdaq Composite dropped 3.4%, which is reportedly its largest one-day loss of the year, to 7,647.02.