The most crypto-friendly european nation? Turkey!
18% of turks own cryptocurrency and for a good reason - Luxembourg ranks last, Greece is not even in the list...
CoinShares Chief Strategy Officer Meltem Demirors declares, she is proud to be Turkish.
Why? Because, based on the ING findings that 18% of Turks own cryptocurrency, Turkey appears to be the most crypto-friendly european nation!
This is much higher than the overall 9% average. In comparison, only 8% of Germany and Italy holds crypto, whereas Luxembourg ranks last with 4%. Greece is not even in the list, and for a good reason... Greece ranks last among european nations in new technologies.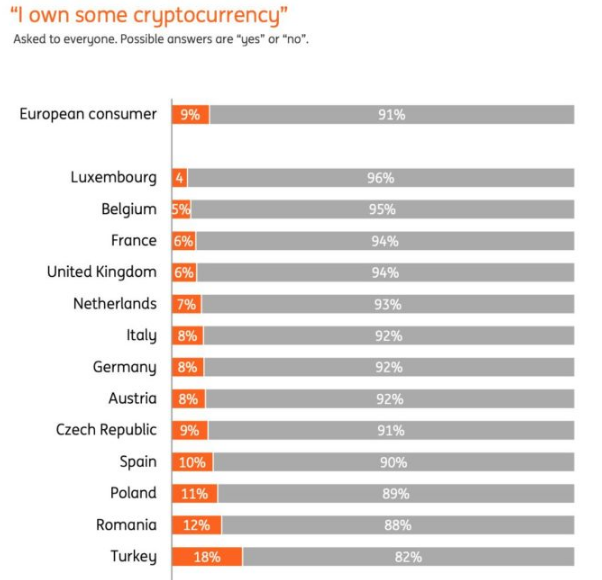 Demiros also pays tribute to the great success of startups and investors in the country. However, there may be a few more reasons why Turkish people are holding onto digital assets.
For one thing, bitcoin may be volatile, but so is the country's currency, the lira. In fact, even as bitcoin racked up record losses last November, trading volume on Turkish exchanges shot up by 37 percent.
The Turkish lira crisis involving dollar-denominated debt that took place last summer greatly devalued many Turkish families' life savings. They also saw their pensions and investments significantly affected.
We may not be talking about the likes of Venezuela, but the lira did lose 20% of its value from one day to the next on August 10. Erdogan's Turkey may be creating the perfect storm for cryptocurrencies.
Besides the crumbling economy and fluctuating lira, according to computer science professor at Cornell University Emin Gün Sirer, culture plays a large role in the Turkish appetite for bitcoin.
Not only does the country have a much younger population than the rest of Europe, but they are particularly open to new technology. Moreover, he says that financial schemes with high-profit margins are naturally attractive to Turks. This means the Turks own more cryptocurrency not only as a means of payment but also as a speculative asset.
As for Erdogan, he has not made cryptocurrency illegal in the country. However, he has tried to persuade citizens to convert their dollars into lira, rather than bitcoin. The state religious authority Diyanet also decreed that Muslims should not trade in cryptos.