Bitcoin sends Wall Street tech giant crashing 20%
Can crypto affect the biggest money market in the world? Absolutely. Only this time, it was Mining that did the job...
Bitcoin has the ability move tech giants like Nvidia, by lifting it to "heavens" or sending it crashing down. The reason? Graphic cards + mining.
Taiwan-based computer hardware producer Nvidia updated its financial estimates for Q4 for the fiscal year of 2019.
The company is reflecting weaker forecasted sales in its gaming and data center platforms, which comes from excess mid-range channel inventory following the slump in cryptocurrency markets. Q4 revenue is expected to be at $ 2.20 billion, opposed to the previous projection of $2.70 billion according to a statement released by Nvidia on Jan 28.
The cryptocurrency mining frenzy drove up demand for Nvidia's graphics processing units (GPUs). However, once the demand began to disappear due to decreased crypto valuations, GPU prices did not decrease enough to attract new consumers to purchase more affordable cards. This led to what Nvidia founder and CEO Jensen Huang has called a "crypto hangover."
Infuriated gamers back in 2017 blaming crypto-miners for the sky-rocketing prices in expensive high-end graphic cards used both for gaming and... for mining crypto. Since then mining has dropped a lot, since its is extremely inefficient and costly in most countries, including Greece.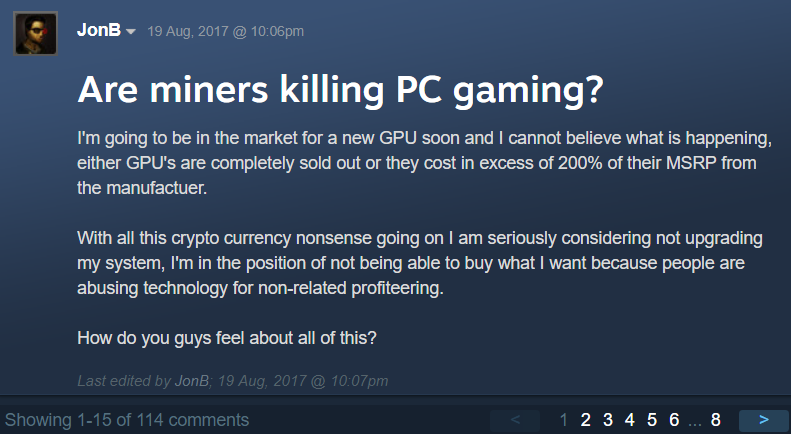 Jensen Huang said in the press release, "Q4 was an extraordinary, unusually turbulent, and disappointing quarter." In addition to a lack of crypto-related business, Nvidia also cites "deteriorating conditions" in China as a indicator of lower-than-expected revenue from gaming GPU sales in Q4.
The company had experienced a massive sell-off of stocks at the end of 2018, which sank the company's stock price by 54 percent. News of decreased revenues for the quarter has dropped Nvidia's stock price by 20 percent, which is now trading around $128, down from $158.08 at opening on Monday.